mai.05.05:

MDCN.CA _ SonicScene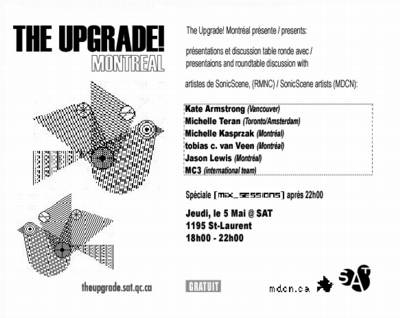 Jeudi, le 05 Mai, 2005 / Thursday, the 05th of May, 2005
La Société des arts et technologiques (SAT) - 1195 St. Laurent

Un rendez-vous mensuel pour les artistes, conservateurs et amoureux des nouveaux médias et de la culture numérique à Montréal. Gratuit ! Les propositions pour des présentations futures sont les bienvenues. Ouvert à tous.
A monthly gathering of artists, curators and lovers of new media and digital culture in Montréal. Free ! Proposals for future presentations welcome. Open to everyone.
avec / with :
Mobile Digital Commons Network / Réseau mobile numérique communautaire
MDCN / RMNC : Sonic Scene artists & projects
Michelle Kasprzak, Michelle Teran, Jason Lewis, MC3 & tobias c. van Veen
/./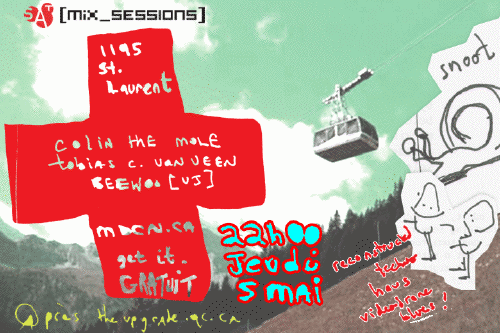 • 17h-19h: cinq à sept MDCN avec VJ Beewoo and DJ tobias
• 19h-19h10: Introduction à The Upgrade
• 19h15-19h40: Michelle Kasprzak, SonicScene
• 19h50-20h15: tobias c. van Veen, SonicScene
• 20h25-20h50: Michelle Teran, SonicScene
• 21h05-21h30: Jason Lewis, CitySpeak
• 21h35-22h: Marc Tuters, MC3
• 22h – 24h minuit [mix_sessions] MDCN avec: BeeWoo (VJ, C0C0S0L1DC1T1), Colin the Mole (DJ, Laïka, Mutek) & tobias c. van Veen (DJ, quadrantcrossing.org)
PDF
Download the press release with biographies, information, abstracts and the flyer here.
Téléchargez le communiqué de presse avec des biographies, l'information, des éxtraits ici.